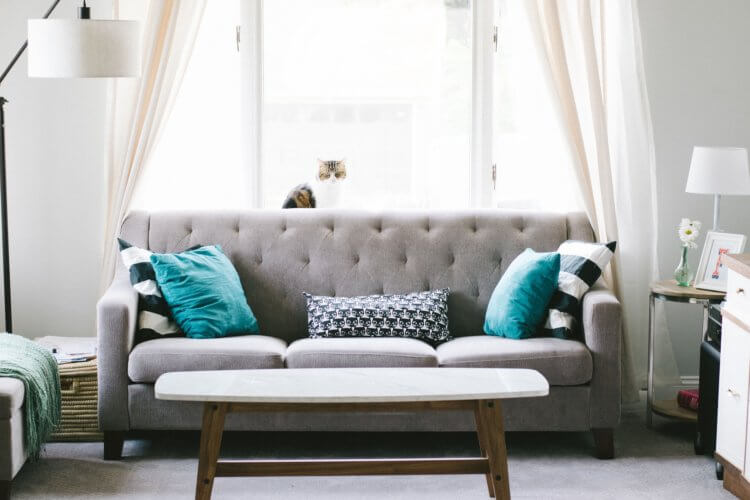 Noises from your neighbours and outside can be annoying. Loud music, thumping noises, talking or car sounds can drive you crazy. Many people are sensitive to even quiet noises so it's understandable you want to improve your flat. Soundproofing isn't as difficult or expensive as it may seem and can give you peace of mind you desire. It will also give you freedom of being loud from time to time, especially if you have children or pets. You won't have to worry that your neighbours will come knocking at your door to complain.
Soundproof your flat inside
Sound reflects off of hard surfaces, that's why it's a good idea to hang something soft on walls and ceilings, if possible. Rugs or rubber textile mats can solve the problem. Carpet on the floor may also help. You can either place a rug or lay the whole floor with carpet if your landlord allows that. It will absorb the noise from the inside so that your neighbours won't hear you and it will also make your flat quieter. Additionally, placing a thick rug pad will muffle all the noise better so that's another thing to think about.
You can also try to rearrange the flat. Try putting the TV against the shared wall to drown the noise watching your favourite program. Or perhaps turning on the radio would do the trick as well. Swapping rooms can also help. Why not changing the bedroom into office? You'll no longer wake up tired thanks to the quiet environment.
Another way of soundproofing your flat is adding a big bookcase that will cover a whole wall. Big objects resist vibration, therefore, sound can't travel through them. Make sure there are no gaps between the bookcase and walls so that noise won't get through this way.
Soundproofing doors
Noise can enter through gaps around your door. You can get rid of them by adding a door sweep. This will keep all the sounds, dust, bugs and air away from your flat. The rest of the gaps can be sealed with foam so that your door shuts tightly. You can also use draft stoppers for all the other doors in your flat. Another way is hanging heavy curtains that will absorb all the noise sneaking through the door.
Soundproofing windows
Noise can also get through windows, especially if you have only a single pane of glass. If possible, install a triple pane to add more insulation. Alternatively, you can set up soundproof curtains. They block out sounds and deflect them outside. If you want an easier solution, there are heavy drapes or sound-blocking quilts.