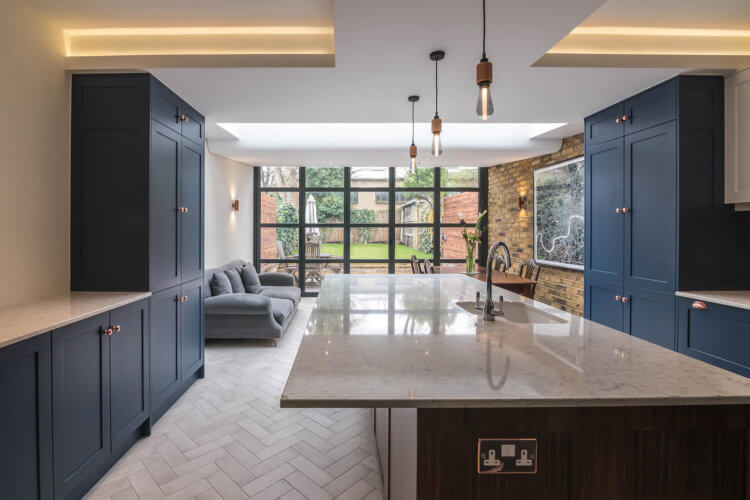 What is the main factor that makes you feel that you belong to a place? Some of the most popular answers circle around aesthetics, relaxed ambience or the presence of your loved ones. And we understand that completely.  And we understand that completely. At Diamond Kitchens, we go the extra mile to create such a change in your life that you can be given exactly what you need.
Choose the style you want
Have you ever dreamed of the perfect kitchen but never got the courage or opportunity to create it? Now it's a perfect time! We provide bespoke furniture for any kitchen, so don't worry if you feel like you are limited by a small space or dimensions that seem like they are hard to manage. If there is a style you want to go for, just do it. Our experienced and fearless team members are ready for any challenge, big or small. Thanks to our know-how, we can deliver anything you dream of.
Find the features you want to display or hide
Many architectural masterpieces have the attributes that look exceptional and it would be a crime not to display their distinctive nature and beauty. Other structures, on the other hand, are made just to be hidden by the furnishing as they are at awkward angles and don't add any charm in. Consider if you have those features in your home, and tell us what you would like to do about them. We will work hard to make sure that everything is just as you imagined
to give you the ultimate comfort.
Design your private heaven
We know that the kitchen at every home has a different meaning and tasks to perform. Some are just used for cooking, others are made for socializing and bonding. When you fill in a free quotation on our page, we get the idea of how your kitchen looks like and what you want to achieve. Then we will go together through the planning and designing process. We have a great knowledge on how to organize the furniture in the dining, L-shaped and U-shaped, island kitchen whether they are big or small. Our designing and manufacturing process is super simple, but efficient and the effects are breathtaking.
Enjoy the aesthetic for decades
Thanks to our wide variety of products we offer, you can design not only your kitchen but also your whole home! We are ready to manufacture any made-to-measure furniture that will fit into the aesthetic you have in mind. Thanks to the professional designers, manufacturers and very high-quality product we are able to come out with a product that will be an investment piece and will serve you many decades. Trust Diamond Kitchens and change the feel of your home for better forever!