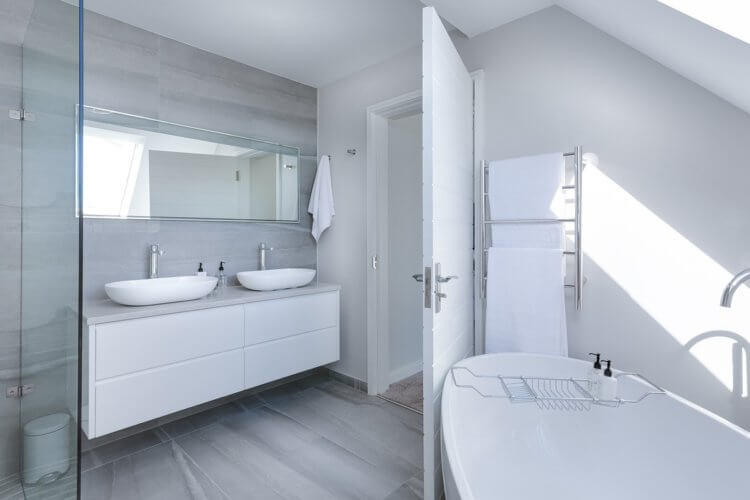 If you are planning on converting your attic into a bathroom, then you probably want it to be convenient and functional.
Planning a bathroom in the attic is a bigger challenge than planning any other room under the slants. You may want to keep in mind the angles when choosing furniture and other bathroom accessories.
Planning Wisely
Converting an attic into a bathroom is something you don`t do every day. However, if you are doing it, you would first need to plan it wisely in order to use the space under the slants.
Looking at a plan, you must remember to distinguish between two concepts:
– the total area, which is the surface measured from the floor
– the useable area of the bathroom, which depends on the angles of the roof slopes. The steeper the roof, the more usable the space in the bathroom.
The sanitary facilities layout
In a bathroom with slants, every centimeter of the area counts. Before planning on furnishing it, it`s a good idea to realize how much individual space you need for equipment. Here is a list of equipment that is an example of planning space:
– bathtub – you may want to consider where your head is while being inside the tub, as well as how much space you need to freely exit it.
– cabins and shower trays – usually they are located in a place where you can freely stand and your cabin doors can open. Many cabin manufacturers offer bespoke cabins so that the shower can use the slanted space.
– toilets – as much as you want to sit comfortably, you also want to stand up from the toilet without risking hitting your head or having in mind that you have to bend your knees.
– washing machine – you can place a washing machine under any slant really, you just need to consider the height of it and if you will have enough space to place your dirty laundry inside.
Problematic slants
Knowing that your bathroom will be in the attic, you know that there will be slants. However, the area under slants can be used intelligently, for example:
– various storage solutions,
– low-rise items,
– shelves,
This doesn`t mean that we have to place all sanitary facilities next to the walls without slants. You might as well plan to place a bathtub, toilet bowl or even a shower cabin there. However, it is necessary to check whether the slants will interfere with regular use of the devices.
Attic lighting
A huge advantage of having a bathroom in the attic is providing natural light in the form of roof windows. However, if for some reason roof windows cannot be used in your bathroom, you may want to consider getting a skylight tunnel. It`s always worth it to bring in more daylight because during the day there`s no need for light in a bathroom and generating costs.
The less, the better
The more space you have, the more the bathroom will become comfortable, which is why it`s important to plan before doing anything. You won`t have to worry about hitting your head unexpectedly or not having what you need.
You can find bathroom inspirations on pages like:
https://www.pinterest.com/piotrszutkowski/ideas-for-the-attic-bathroom/