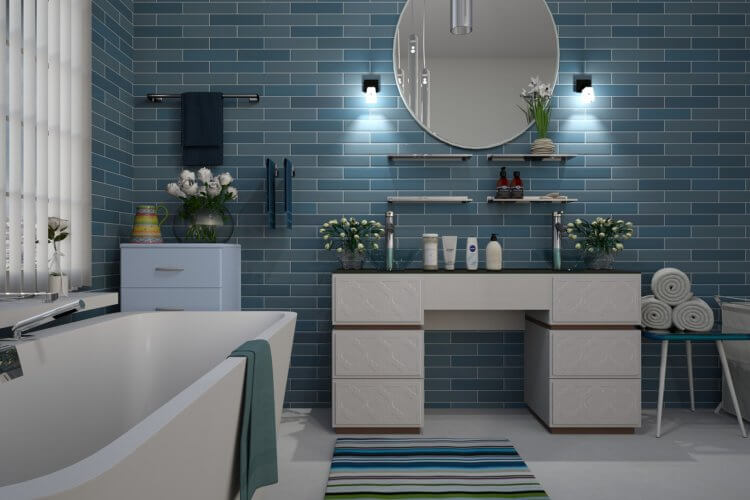 It's time to bring the end to the uniform and boring house designs! Below we present 10 contemporary ideas for both modern and functional bathrooms ready to inspire.
1. Dark walls
Dark blue or purple walls will be a wonderful contrast to any white appliances. Colour will add a dimension and visually enlarge the space that you have. If you choose some to add some extra texture to the walls and combine it with an antique mirror or stool, you will have the perfect royal-like bathroom.
2. Marble tiles
Tiles with a marble design are a must for any luxury and contemporary space. They make everything look more expensive and give a posh touch. With a glass shower door, a bright mirror and a bright ceiling light you'll be enchanted with the outcome!
3. Free standing bath
Bath doesn't have to have only one function it can be used as a decorative element too. If you're short on the space or if you just want to do something out of the box, you should choose to organise the bathroom around the bath itself! It will create a fantastic and modern look while still being a cohesive interior décor.
4. Greenery
A steamy and wet environment of a bathroom is a perfect place for plants even for a beginner! They'll be a connection between the indoors and outdoors. Modern design works fantastic with greenery, as it brings it the fresh and powerful touch.
5. Reflective walls 
Instead of going with all-blank or all-mirror walls you can do something in-between of those two ideas. Collect mirrors that are in the same or complementary colours and styles and create a mosaic on one or two walls. Enjoy the uncommon features and embrace the different approach to the mirrors on the walls!
6. Fun shower curtains
If you have a shower, why not to make the curtain the main feature that everybody loves? Vibrant flamenco frills will provide a warm yet light atmosphere. Earthy and calm contour map will take you to a favourite part of the real or fictional world anytime you take a shower. Just imagine washing up in the Middle Earth – sounds like a fairytale.
7. Unconventional floor
The flooring can be fun too! Why not look for colourful puzzle-like tiles or a plain vinyl floor? It's the perfect solution for those looking for some cheerful and easy to maintain options that are still glamorous!
8. Striking industrial
Industrialtile work, big mirrors and a big bath will create simple yet striking space. If you'd like to keep in more unconventional though, there're plenty of ideas. Maybe a door-less shower is a way to go?
9. Ground tones
The earthy colour palette looks great with light blue, silver and white. Brown floor and furniture will make anything feel more homey and warm and provide a great contrast to any other appliances.
10. Art on the mirror
Because of bathroom's warm and steamy microclimate, it's usually the last place to have art. It's understandable to avoid paintings, pictures and portraits, but the art on a mirror is a very available option! It can be everything from lettering to mirror-painting that will not only spice up your space but also will bring a fresh modern feel to the bathroom.