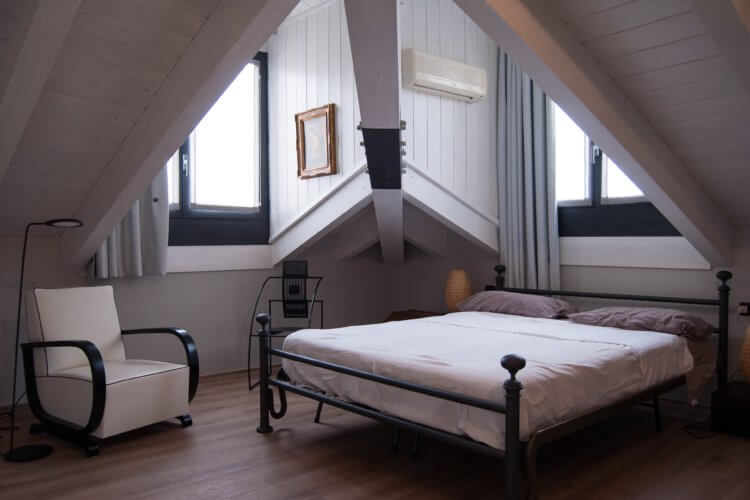 Loft conversions carry with them incredible benefits. It's the perfect way of expanding your home – after all, your attic space will usually go unused otherwise. On top of that, you get to add more life to your home space due to the height of the room, and with large enough windows you can make a truly bright, open space with a beautiful view. But there's a trick to making it work – a loft comes with the disadvantage of having slanted roofs, which can make organising its contents quite tricky. What you need is to follow these space saving solutions to really make your loft space great.
Some of Loft Conversion Works – gallery 

Bedroom in Loft ( converted in South West London)
House Extension & Loft Conversion

What to consider before you start your conversion planning?
The first thing you need to consider is knee walls. These are the walls adjacent to the slanted ceilings, which can be the hardest to actually make good use of. However, if you put furniture that you use while seated or lying down, you'll not only conserve space but also create a cosy spot that can't be achieved anywhere else. Upholstered chairs, loveseats, beds – all of these will fit perfectly into that little space. Don't be afraid of letting your imagination run wild – add in a TV, coffee table, and a bunch of sofas to create a nice lounge space for you and your friends to enjoy some quality time together. Make sure you add some large dormer windows to let in all that additional light, put in a reclining chair and enjoy a fantastic reading area. The best part – if you capitalise on your knee walls, you'll have lots of space left for walking by or taller furniture like wardrobes, so that you can maximise the area you actually use with no effort at all.
We hope this article was useful. If you may have any questions please contact us directly
via phone: 0790 483 75 81
or via e-mail info@diamondconstructions.com